Woman's History Month
Monday, March 22  7:30 PM
Join us as we celebrated Women's History Month with actors portraying five remarkable women who have made important contributions to our history
To register, contact:bevdances@verizon.net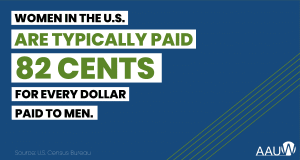 "Pay equity has dominated headlines this year, but change has yet to reach our pocketbooks and bank accounts. Today's news is that women still make 82 cents on the dollar compared to men. And the numbers are dramatically worse for Black women (62 cents) and Latinas (54 cents) compared to white men.
Get Paid What You're Worth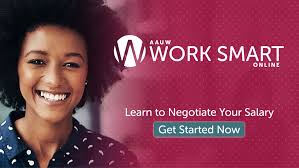 Take AAUW Work Smart Online, a free one-hour salary negotiation course. It is designed to help women negotiate for a new job, raise, or promotion.
About AAUW  American Association of University Women (AAUW) is a nationwide network of more than 100,000 members and donors, 1,000 branches and 500 college/university institution partners. Since 1881, AAUW members have examined and taken positions on the fundamental issues of the day — educational, social, economic, and political.
Our commitment to our mission is reflected in all aspects of our work.
AAUW's Mission AAUW advances equity for women and girls through advocacy, education,
philanthropy and research.
AAUW's Value Promise
By joining AAUW, you belong to a community that breaks through educational
and economic barriers so that all women have a fair chance.
National AAUW
AAUW is a non profit organization, tax exempt under 501c(4).
Headquarters:
AAUW National Office
1111 Sixteenth Street NW
Washington DC 20036
Tel: 1-800-326-AAUW(2289) M-F 8:30am-5pm ET
or
1-202-785-7700
Fax: (202)872-1425
aauw.org